19th century Electoral Rolls for Australia & New Zealand
Written by professional genealogist Vicki Eldridge, this wonderful blog talks about 19th century electoral rolls and which are available on findmypast.com.au
Early on in my researching life I rather looked on Electoral Rolls at face value – considering them along the lines of directories providing a name and address at a particular time. I subsequently discovered they could actually tell me more and in many cases provide a clue to further records. Electoral rolls should be considered as a census substitutes particularly as we lack such things in our Australasian records.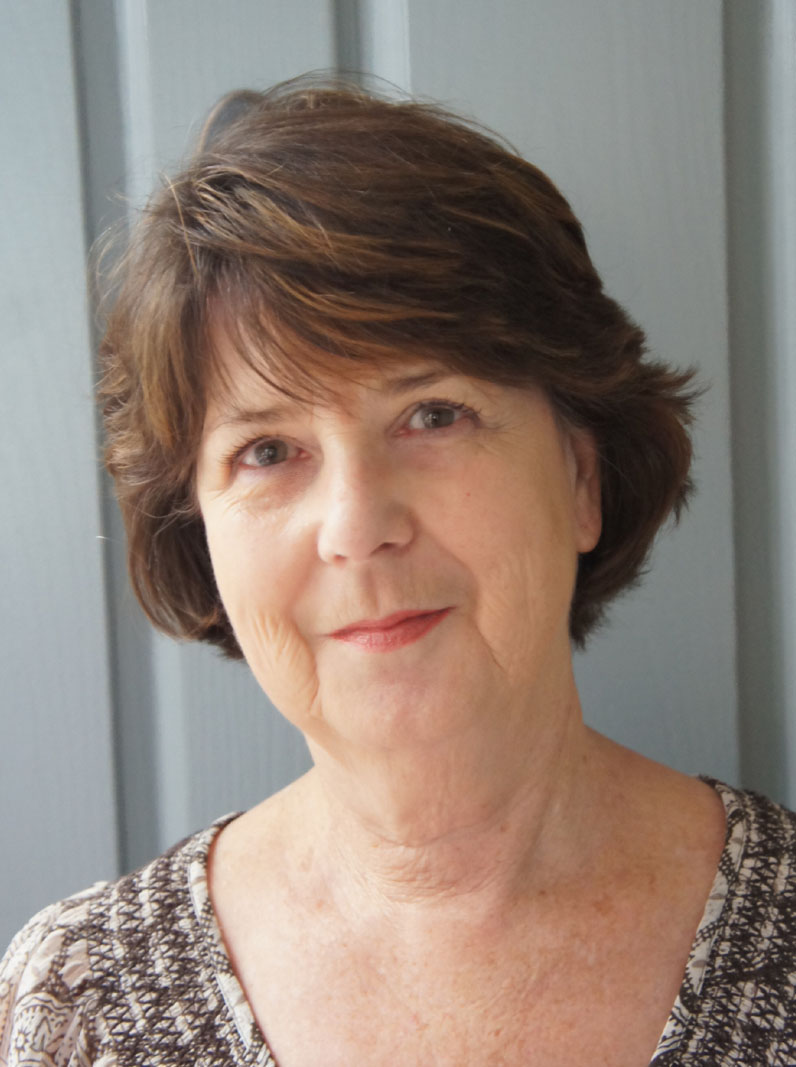 Yesterday, as today, a person had to 'qualify' for the right to vote but the rules were not always the same. The qualifications, as applied at the time, may add further to your family's history should you find an ancestor on an electoral roll.
Each colony, including New Zealand, had its own electoral laws so it is important not to apply the rules in one colony across all the others. There were no national qualifications during the 19th century. For example, while manhood suffrage was introduced in New South Wales in 1858 it was still in conjunction with the property-based qualifier. This meant it was possible for a man to vote in more than one district and therefore appear on more than one roll. One man, one vote did not happen until 1893 in New South Wales.
Elections and therefore rolls were necessary for City of Sydney elections which were first held on 1 November 1842. The franchise applied to adult males, occupying "a house warehouse counting house or shop" and paying rates on property within the boundaries of the municipality (then also the Sydney Police District) with an annual value of £25. While there are no electoral rolls for this election, the rate assessment books, the basis on which the ratepayer qualified, survive from 1845 and are available online at the City of Sydney Archives. (See also Hilary Golder's "Short Electoral History of the City of Sydney Council 1842-1992" for further clarification.
The first New South Wales Legislative Council elections were held in 1843 and cast a wider net not only in area but also by reducing the annual value of the property thus the franchise was for all males:
- Over the age of 21 and a British subject and, who either owned freehold property valued at no less than £200, or occupied a dwelling house (leasehold) with an annual value equal of or exceeding £20
- It was also possible for one person to qualify in multiple electorates if he met the criteria in each
This was varied in 1851 to £100 value for freehold property or a dwelling house or leasehold with an annual of no less than £10 or a pastoral lease. This was extended prior to the 1856 election to include those men receiving an annual salary of £100, and those paying £40 per annum for board and lodgings or £10 per annum for lodgings only.
In 1858 the Electoral Act (NSW) extended the franchise to all residents while retaining the property qualification for non-residents. Thus, every adult (over 21) male, with six months residency in an electorate prior to making the Electoral list, who was also either 'natural born' (born in the colony) or had been naturalised and had lived in the colony for three years, was qualified. The property qualification meant that a person could also vote in an electorate where he was not resident. As elections were held on different days in different electorates, this facilitated those who qualified for more than one vote.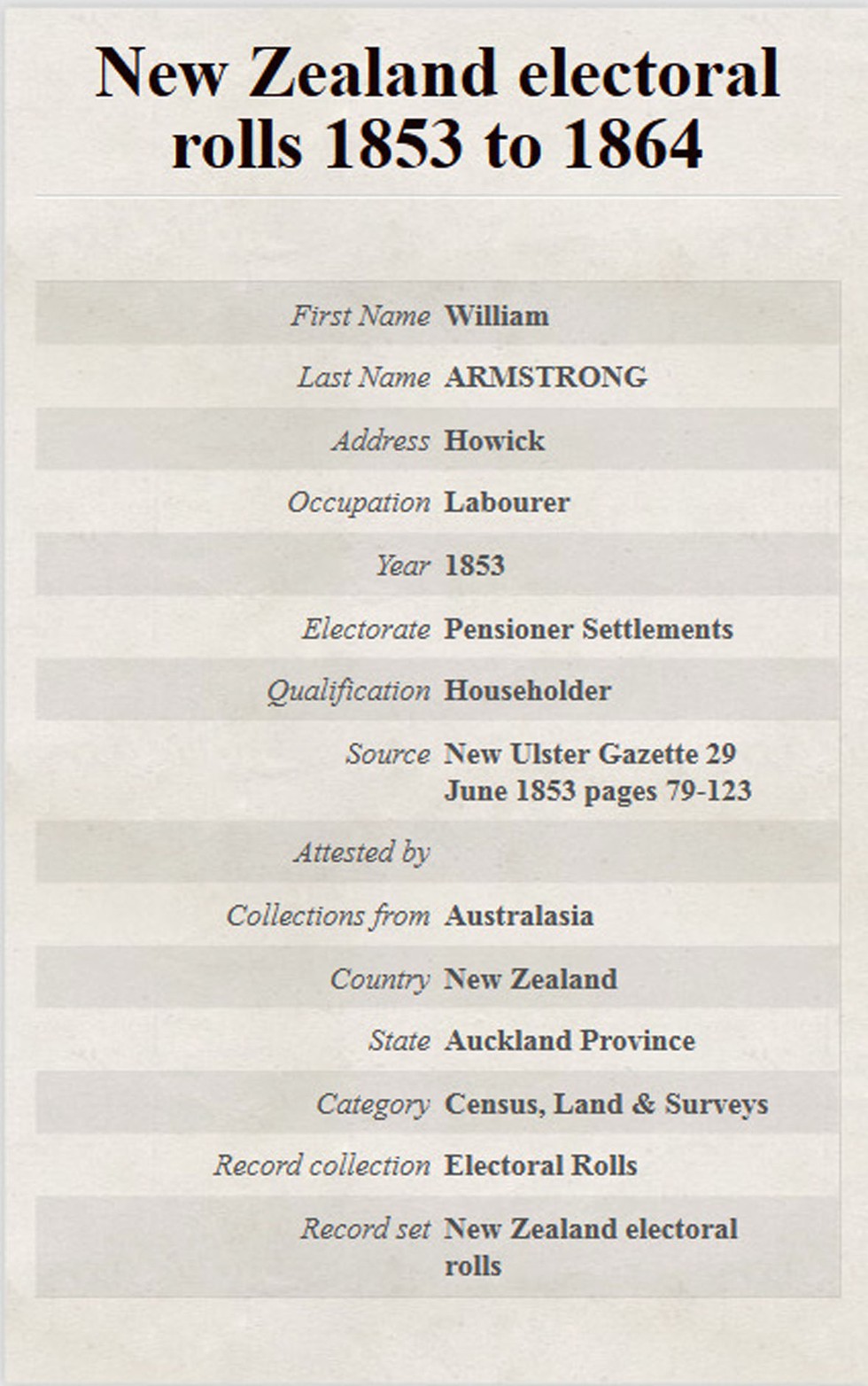 The information shown in the rolls varies little through to 1890 and were compiled under:
Electoral District and gave the voter's name, residence, qualification (to be on that roll) and, the location of the property giving him the qualification – this may be the full residential address or the address of other 'property
For New South Wales surviving electoral rolls for the later part of the 19th century are available at the State Library and State Records of NSW has some but not all. This similarly applies also to the other States and New Zealand where they can be found in their local repositories.
New Zealand
The first elections were held in 1853 with voting rights granted to all male British subjects aged 21 years and over who owned freehold property worth £50 or more; or, paid at least £10 a year to lease property; or lived in a house with an annual rental value of at least £10 (in a town) or £5 (outside a town).
In 1867 all Maori men over 21 could vote for their own representatives and from 1879 the franchise was extended to all males of 21 and over regardless of whether they owned or rented property. In 1889 plural voting was abolished; one man, one vote.
Women were enfranchised in 1893.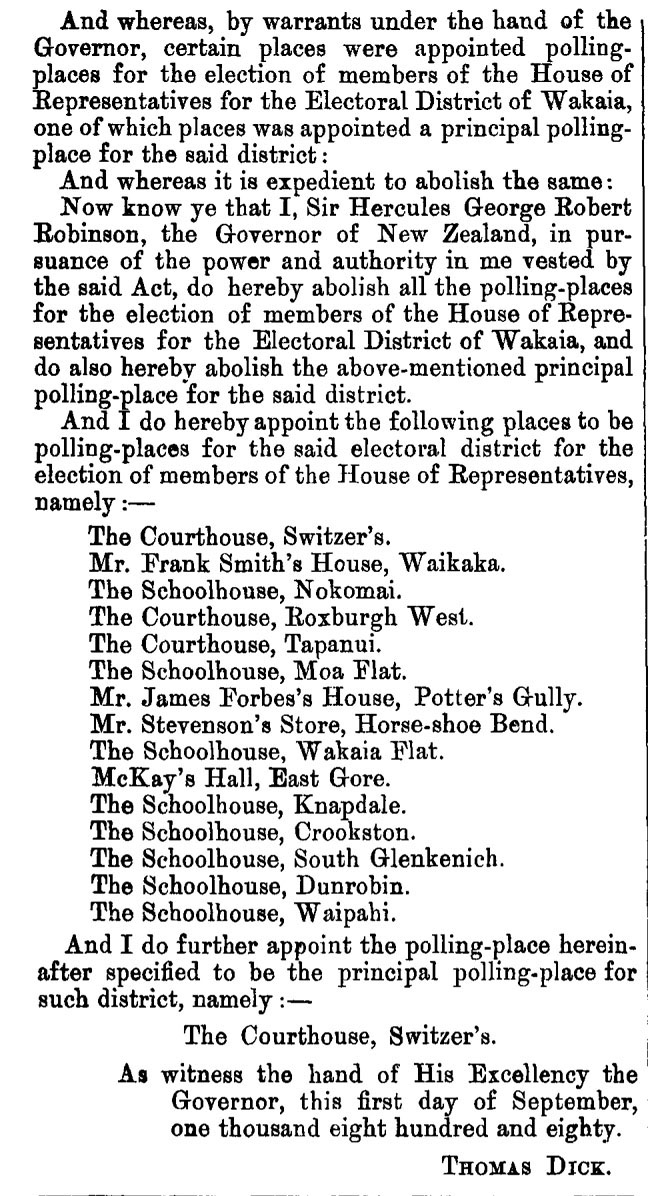 New Zealand Electoral Rolls for the 19th century start from 1853 on findmypast. Search these wonderful records today.
You will also find Queensland State Electoral Rolls pre 1900 on findmypast.com.au . The 1895 Roll has a bonus for anyone with ancestors in Queensland. In addition to showing how they qualified in terms of property, the roll includes the voter's age!
Further references may be found in the collection of Government Gazettes on findmypast. For example: This from the New Zealand Government Gazette of 1880 p. 1262-3. Polling places could change or be changed; sometimes the Polling place was a residence of business premises….perhaps belonging to an ancestor…