Cecil Patrick Healy - Gold Medallist, 1912 Olympics
An interesting account of Cecil Patrick Healy's family history by Shauna Hicks. Cecil was a Gold Medallist at the 1912 Summer Olympics in Stockholm, Sweden.
One hundred years ago at the 1912 Summer Olympics Cecil Healy won a gold medal as part of the men's relay swimming team and he also won silver for the 100 metre freestyle swim. He was part of the combined Australia and New Zealand team, all under an Australasian banner.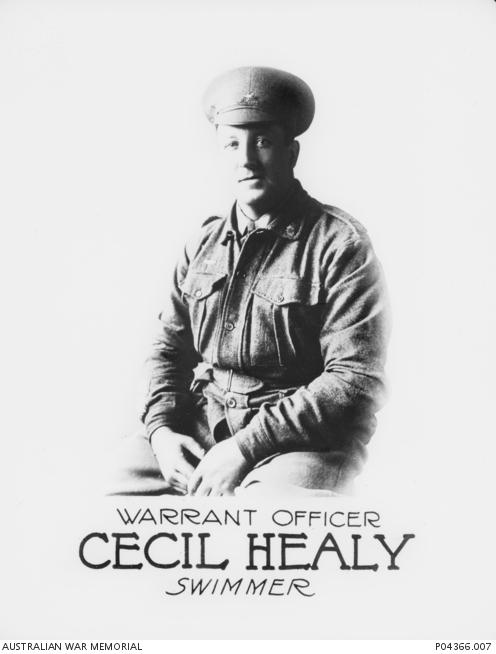 As well as swimming, Healy also held six Australian sprint titles, was a pioneer of surfing and had been honoured for his bravery in surf rescues. Healy as an Olympic swimmer was inducted into the Sports Australia Hall of Fame in 1981, but he has another claim to being remembered. He is our only Olympian gold medallist ever to be killed in action. Healy lost his life on the Somme in 1918 just 74 days before the Armistice was signed.
Healy descended  from well known early NSW legal families, and on his father's side there is a convict connection.
Cecil Patrick Healy was born on 28 November 1881 in Sydney, the fourth child of Patrick Joseph Healy, a barrister and Annie Louisa nee Gallott. Older siblings were Florence, Harold, Claude with younger siblings John, Reginald and Eric.
His parents were married on 26 December 1868 at St Mary's temporary cathedral in Sydney. It was  Annie's second marriage, being the widow of Alphonse Bede Girard, also a solicitor of the Supreme Court of NSW. Alphonse had died in June of that same year leaving a son James, two years old.
Cecil's father Patrick died at the family home in Darlinghurst on 7 September 1895 aged only 52 years. Cecil was 13 years old at the time and his mother Annie had become a widow for the second time.
Patrick's headstone in the Waverley cemetery gives his birth date as 21 May 1843. His parents were Nicholas Healy and Mary Ann Clarke who married in 1832 and had a number of children after settling in the West Maitland area. Nicholas was a former convict from County Clare who had arrived on the Minerva in 1819 after being sentenced to transportation for life.
For many years Nicholas Healy was a storekeeper at West Maitland and in 1851 he opened the Governor Bourke Inn at West Maitland. He died in 1861 after a 'severe and protracted illness'. His wife Mary Ann died in 1884 and is buried in the Waverley cemetery.
Cecil's mother Annie Louisa Gallot was the eldest daughter of James Ambrose Gallot, a solicitor and Caroline Sarah Horsey's nine children. James and Caroline married in 1842 in St Andrew's Scots Church Sydney and shortly after they moved to Melbourne where some of their children were born. The family moved back to Sydney ca 1860. James died in Sydney in 1893 and Caroline in 1904.
Sources: findmypast.com.au; Australian Dictionary of Biography Online; Wikipedia; Sports Australia Hall of Fame; TROVE; NSW BDMs; State Records NSW; The Normile Letters
Search the wonderful Waverley & South Head Cemetery Transcriptions to see the records mentioned above or to search for your own family history.
Read about the Waverley & South Head Cemetery Transcriptions for more information about these interesting records.