Coffs Harbour District Schools Index Part 1
Published for the first time ever, these records cover schools in the Coffs Harbour District of New South Wales, some of which still exist today and others that no longer operate. There are over 4200 records spanning from 1891 to 1981, making them a truly fantastic resource.  There is a 30 year exclusion period, as recommended by the Department of Education and Communities NSW.
This index is developed from School Admission Registers, photocopies of which the Society has been able to acquire.  The information included in these records is surname, given name, school name, date of admission and source document reference. The original documents provide additional information on the pupil and their parents, guardians or care givers which the Society is able to access.
If a researcher locates a family member on the Index, they may contact the Society to access the school admission register copies that are held.  These copies may include additional information such as whether the pupil started their education at a particular school or transferred from another; the name and possibly the occupation of the parent, guardian or care giver; and in some instances, where the pupil continued his/her education or if they joined the workforce on leaving a particular school or their relocation to another area. Therefore these records are really valuable as they can lead to even more information.
This database indexes names drawn from schools in: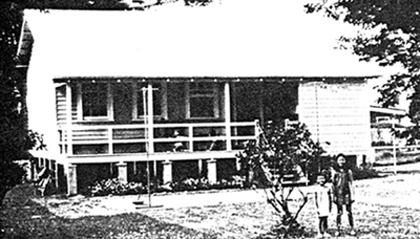 Corindi Public:  1940-1971
Karangi Public:  1892-1954
Lower Bucca Public: 1915-1970
Orara Public: 1891-1926
Upper Orara Public: 1926-1945, 1963-1980
Raleigh Public: 1894-1961
This photo was taken in 1976 of Raleigh School, which is one of the Schools in the Index. This was the new school building built in 1956 and replaced an older building which had been built in 1874.  Raleigh was a one teacher school until the early 1980s.