Explore our fascinating new Napoleonic Prisoner of War records
To celebrate the 200th anniversary of the Battle of Waterloo, Findmypast has released over 71,000 of fascinating new Napoleonic Prisoner of War records in partnership with The National Archives. The new records have been added to the larger Prisoners of War 1715-1945, the first phase of which saw the release of over 43,000 World War One records. The collection will continue to expand with further Jacobite and Second World War prisoners throughout the year.
The new Napoleonic Prisoner of war records cover the years 1794 to 1818, spanning the entire duration of the conflict. They are taken from Foreign Office, Colonial Office, Admiralty and Air Force papers and record the details of Danish, French, Prussian and American prisoners captured and held by British Forces. They not include only military persons, but also civilians, diplomats, missionaries, merchant seamen, and a substantial number of Americans captured during the War Of 1812.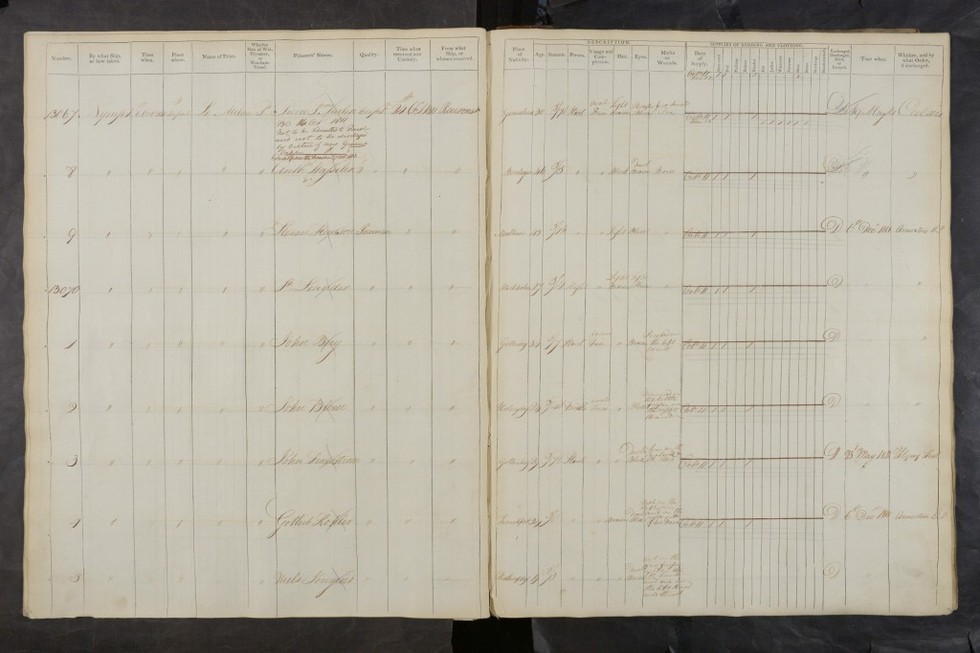 Captain Pierre Francois Nexlin's ships, the Raisonnable , was captured by HMS Nymphe in 1811. Nexlin was denied parole and help at Chatham
Over 100,000 prisoners were brought to Britain during the wars with France between 1793 and 1815. Unlike eighteenth-century prisoners of war, prisoners of the Napoleonic Wars remained captive for the duration of the conflict, unable to return home through the traditional means of prisoner exchange or officer parole. This was particularly beneficial in the case of seamen as they were highly skilled and difficult to replace.
Discover your Napoleonic ancestors
Prisoners unfortunate enough to be captured early in the wars faced long periods in detention. This caused British prisons and hulks to fill up rapidly and the government struggled to cope with the volume of captives on British soil. This led to the construction of HMS Prison Dartmoor in 1805. The now infamous prison was purpose-built to house POWs, and held large numbers of Americans captured during the war of 1812.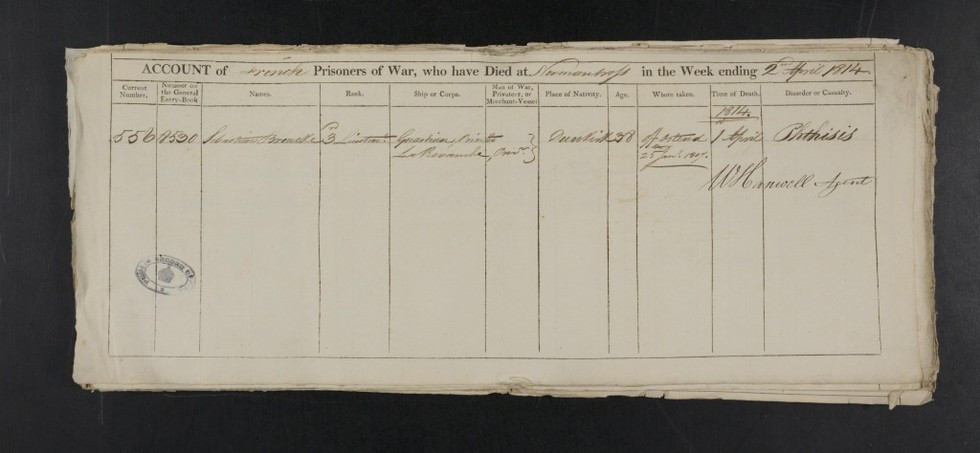 3rd Lieutenant Sebastine Broucke was captured at Ostend in 1807 and died in captivity in 1814
While enlisted soldiers were often confined in horrific conditions, officers were able to secure parole by providing their word of honour in writing that they would not escape. Parole allowed them to live relatively normal lives in lodgings with civilian families in certain towns around the country. The French also established a similar system for British captured officer held in France. In some areas French prisoners earned extra money by drawing or teaching French classes.  There were even dramatic troupes and performances. There are plenty of stories of French soldiers socialising and even attending parties with the local British gentry.
On arrival in Britain, officer prisoners were the responsibility of the Admiralty's Transport Board. Once they had signed a parole document, they were provided with a copy that carried a physical description and served as an identity card that they were required to carry. They were then assigned to a "parole town" where a Transport Board agent would arrange for them to be billeted with a suitable local family. They were required to report to their agent twice a week, who would also provide them with a living allowance. Some prisoners had their wives living with them, possibly captured at sea and choosing to stay with their spouses in captivity.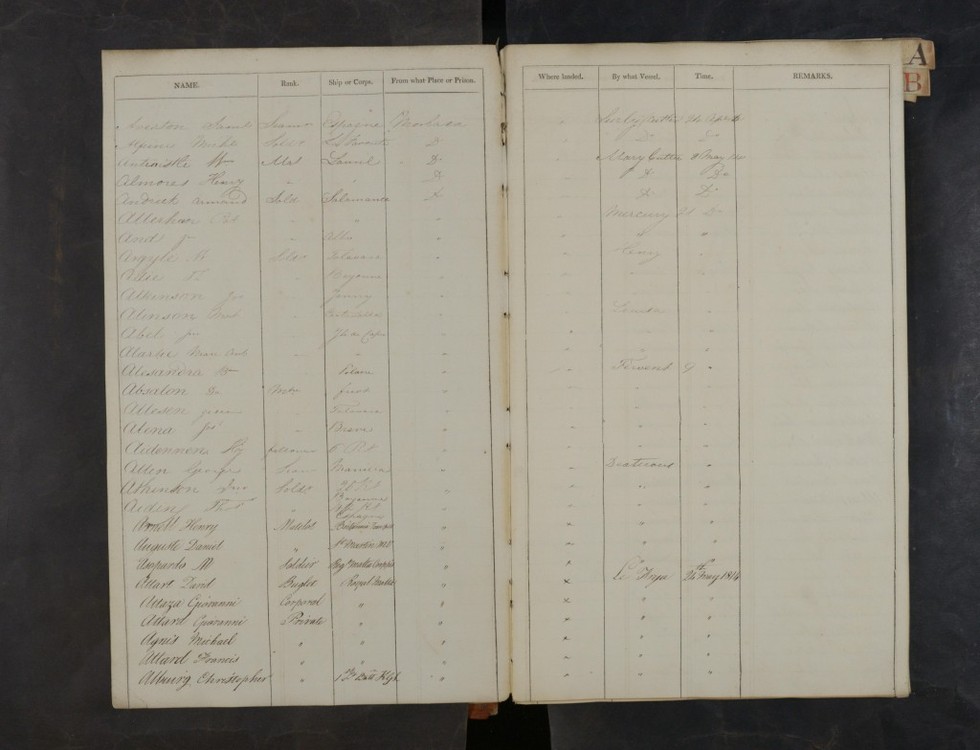 Private Giovanni Attard of the Malta Corps was captured in 1814
Exploring the new Prisoners of War 1715-1945 records allow you to gain remarkable insights into the experiences of Napoleonic POWs. The records reveal when and where prisoners were captured and held as well as their nationality, rank, regiment and service number. Records were kept of their provisions and the supplies they received for example blankets, clothing, beds etc., and number of records also include physical descriptions of inmates.