One of the perks of being a Findmypast team member, is the opportunity to explore my own family history. When tracing my paternal ancestors, I discovered an inspiring story about my great grandfather, who went from zero to hero against the odds.
Charles Albert Cullen (born c.1880) is found in the Dublin Workhouses Admission & Discharge Registers on Findmypast in 1889. Just a child at the time, he is listed alongside his mother Mary and two younger siblings, Mary (7) and Joseph (10 months).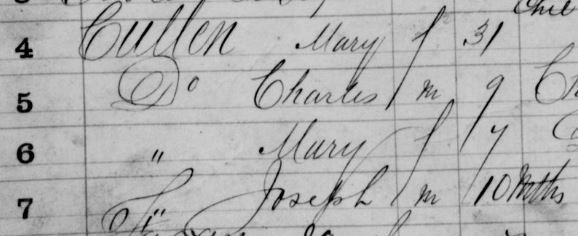 The Cullen family in the North Dublin Union Workhouse, July 1889
Although a note on this record mentions Mary is married and her spouse's name as Charles Senior, I've found no other trace of him in any of my research so far. This suggests Mary faced the tough task of raising a young family on her own in the overcrowded tenements of Dublin City where they lived. Was this why they ended up in the workhouse?
Whatever the reason for them being there, daily workhouse life would not have been kind to the family. Historical reports suggest families were often separated and Mary's day would undoubtedly have consisted of arduous manual work, whilst also trying to look after her young children. Yet, with nowhere else to turn during times of hardship, many of the inmates in Dublin's workhouses would have been grateful to be there, if only for a roof over their heads and food in their stomachs.
Unfortunately, circumstances didn't seem to improve for some of the family in the years that followed. Mary is recorded several times in the Irish Prison Registers for begging and drunkenness, the same year that youngest son, Joseph, is separated from the rest of his family in the 1901 Census, at Carriglea Park boy's industrial school in Kingstown, Dublin.

Mary Cullen in the Irish Prison Registers for begging in 1901
The problems that the rest of his family endured make Charles Albert's life story all the more remarkable. As the eldest child and with a seemingly absent father, responsibility would have fallen on Charles to provide for his family. At the time, a route many young Irish men took was enlistment in the British Army. Although daunting, it was a relatively stable career path with decent pay and the chance to see the world.
Charles signed up to the Royal Artillery in December 1898. His British Army Service Record shows him serving in several locations including South Africa during the Boer War from 1899-1902. For his efforts, he was awarded the South Africa Medal of Clasps.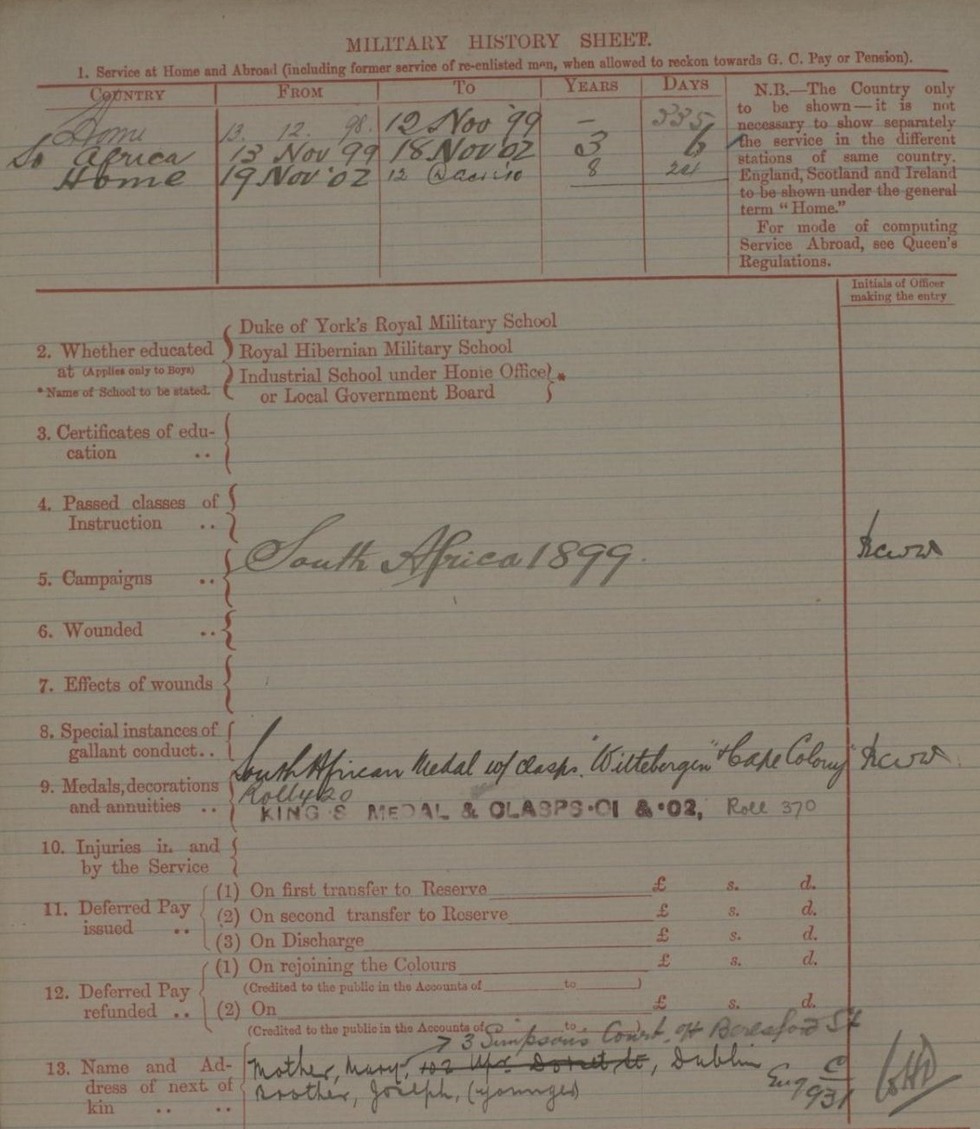 Charles Albert's service record listing service in the Boer War and medals received
His journey from destitute beginnings to decorated soldier, makes this rags-to-riches ancestor one I'm proud to have firmly fixed on my family tree.