Honoured this Anzac Day: Frederick Heasman, an English boy who made Australia his home
In the 100th year since the outbreak of World War 1, our new records have a special focus on those who fought and gave their lives during that conflict.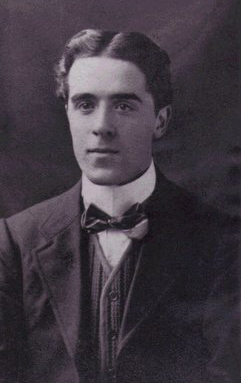 Frederick Heasman
One such individual is 22-year-old Frederick Heasman, who moved to Australia from Sussex in England in 1913, following his brothers Albert and Gilbert.
Frederick emigrated to Western Australia from Sussex in early 1913 following his brothers Albert, who had emigrated in early 1911, and Gilbert, who had emigrated in 1912.
He enlisted at Perth, Western Australia on 1st March 1915 joining the 28th Battalion, AIF. He gave his age as 22 years and 11 months, and was given the service number 291.
Frederick was in Egypt until September 4th, when the battalion embarked aboard HT Ivernia for Gallipoli.
He fell ill on 19th October with enteric, and was shipped out to St Andrews Hospital, Malta, before being shipped back to Australia on the 21st.
On the 15th June, he was declared fit for duty. He joined 13th Australian Machine Gun Company on the 6th May, 1916, and joined this unit in the Field three days later.
On 13th September, Frederick wrote his last will and testament, leaving all his personal estate to his mother, Mrs Annie Heasman of Markstakes Farm, South Common, Chailey.
Thirteen days later he was killed in action at Passchendaele at what would subsequently become known as The Battle of The Menin Road.
Discover World War One heroes now
Nine months later, a W S Harrison, also of the 13th MGC wrote about that day:
"I saw Corporal Dyer (Sigr) and Pte Heasman killed by [the] same shell and helped to bury them where they fell at the old German front line[,] then our position just in front of Zonnebeke.
They were buried in the same grave which was marked by a rifle. Dyer came from South Aust and Heasman from West Aust."
-          W S Harrison 3840, 13th MG Coy, Hut 10, Westham [16th May 1918]
A tragic remembrance
On 9th January 1918, Annie Heasman wrote to The Australian Imperial Force Kit Store in Fulham acknowledging receipt of her son's few personal effects.
Nearly five years later, a memorial plaque, memorial scroll and pamphlet entitled "Where The Australians Rest" was sent to Frederick's father in England.
Frederick Heasman has no known grave and is commemorated on the Menin Gate at Ypres as well as Chailey's village memorial.
His brothers Albert and Gilbert Heasman and his brother-in-law Henry Downing, also served their King and Country during World War 1. All three survived.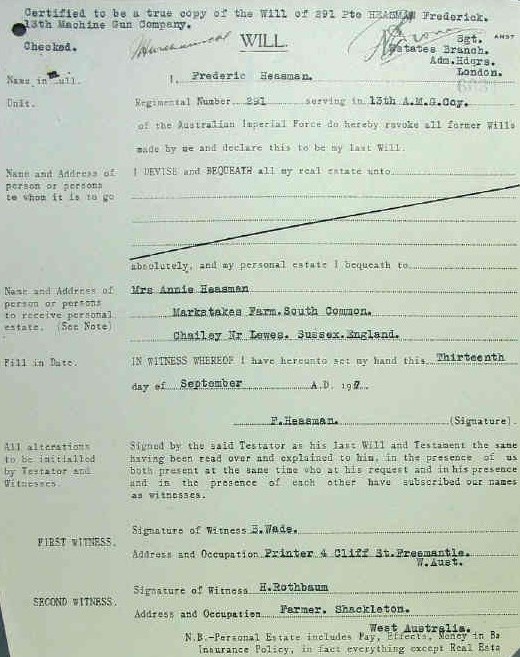 Frederick Heasman's Will