"The trail went cold": How the historic newspapers found my missing grandparents
The following story comes from Findmypast user Paul Morgan:
I have been researching my family history since I retired 8 years ago. When I started this project very little was known about our ancestors.
Start building your family tree today
My parents both died many years ago and their predecessors were rarely if ever talked about. I now have a tree of some 200 family members and have obtained copy birth, marriage and death certificates for most of my direct ancestors.
However, I have never been able to find the death dates for either of my paternal grandparents. I knew when they were born, when and where they married, where they were on all census returns up to 1911, but not when or where they died.
I have subscribed to various family history websites and sent for quite a few certificates from GRO that seemed to fit the known details approximately, but have always been disappointed when the certificates arrived to realise they were not my grandparents.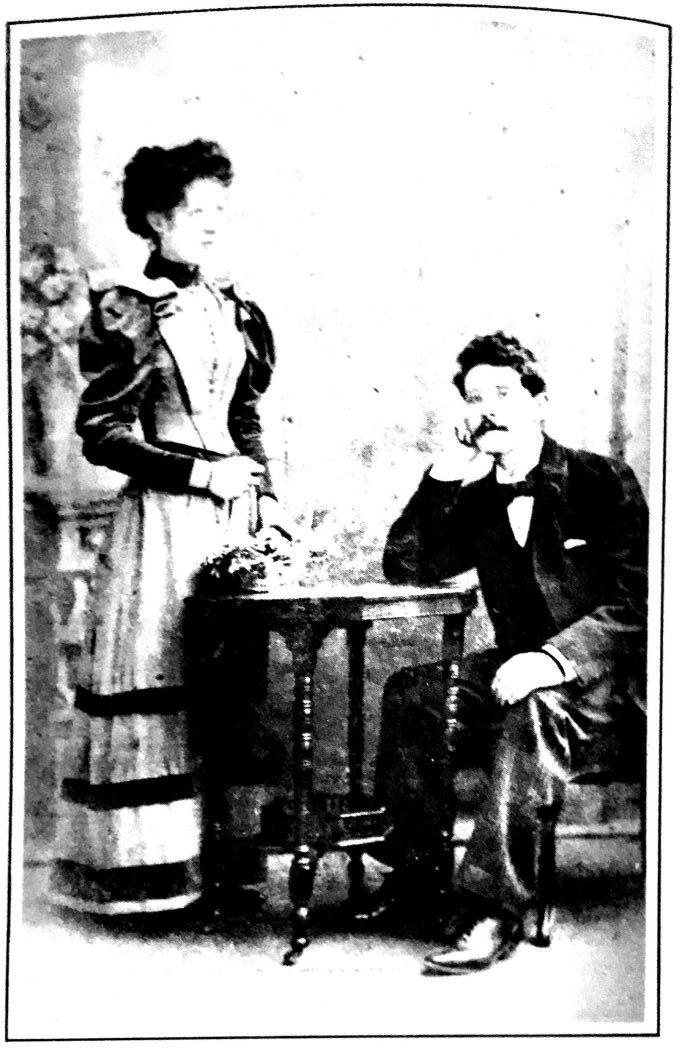 Rowland and Ellen on their engagement
What I did know for certain was that Rowland (grandfather) was born in 1869, Ellen Martin Church (grandmother) was born in 1870 and they had 2 sons Frederic (my father) and Verne (my uncle). I had been able to trace where they had lived from 1901 and 1911 census returns and the last record I could find was an electoral roll entry in Lewisham (then Kent) in 1922. After that the trail went cold.
My father was married in 1921 and Rowland was a witness. Verne married in 1929 and his father's name appears on the certificate as deceased. Having all this information I thought it would have been a simple matter to find out when Rowland and Ellen died, but searching all the usual channels always finished in a dead end. I considered the possibility that they had emigrated or possibly changed their names, but thought both of these to be unlikely.
I considered the possibility that they had emigrated or possibly changed their names, but thought both of these to be unlikely.
I was offered a 1 month trial for £1 by Findmypast late last year and thought as a last resort I would have another go at finding the elusive grand parents. Not long after starting with Findmypast, I was doing a general search using my fathers name when an electoral roll entry for Chelmsford was displayed for 1926.
I thought this peculiar as I had no knowledge that my father had ever lived in Chelmsford, but one of the incorrect death certificates I had received was for a Roland (wrong spelling) Morgan who had died in Chelmsford in 1928. I had discounted this partly because of the wrong spelling of the name, but also because the person reporting the death was unknown to me, and the occupation shown was not that of my grandfather who we knew had been a newsagent.
Search the historic newspapers

Thinking that I might be on to something, I used my fathers name and Chelmsford as a search clue and found a newspaper cutting for Rowland's funeral from the Chelmsford Chronicle which had all the correct details to confirm this was our Rowland. According to the newspaper cutting Rowland had lived in Chelmsford for 3 years after retiring from London as a newsagent and he was shown as being a widower.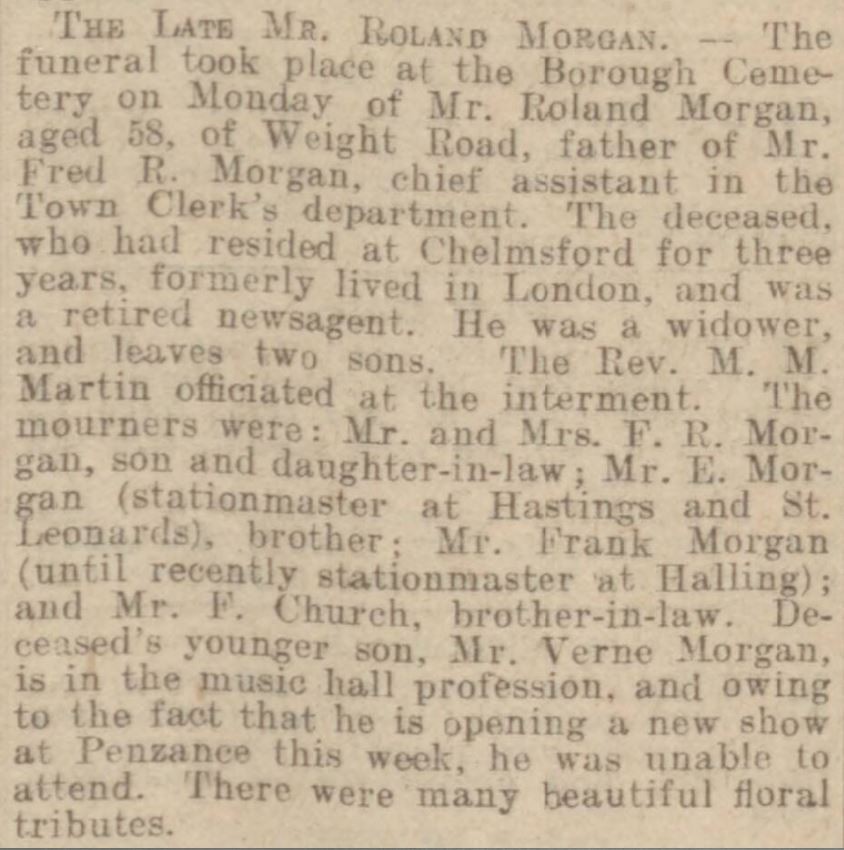 Chelmsford Chronicle - Friday 16 March 1928© THE BRITISH LIBRARY BOARD. ALL RIGHTS RESERVED
Now realising that Ellen must have died before 1926, I revisited her death and one of the Findmypast hints referred to a Ellen M Morgan who died in Greenwich in 1923. Knowing that she was born in 1870, I had always used the exact year of her birth when searching records instead of plus or minus 5 years.

I sent for this certificate because Greenwich was only a few miles from Lewisham, and lo and behold when the certificate arrived it was the correct one, Rowland was present at the death which was the final confirming detail.