How the Royal Baby will be Related to Other Celebrity Kids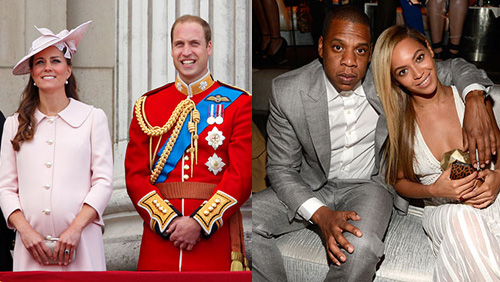 New prince or princess shares ancestry with Beyonce, Brangelina, and Hilary Duff offspring.
As the world waits with bated breath for the birth of the heir to the British throne, findmypast.com.au has uncovered His or Her Royal Highness' celebrity cousins.
Prince William and Kate Middleton may expect petitions for palace play dates from the following celebrity royalty whose children are related to the Royal Baby:
1. 11th cousins: Jennifer Garner and Ben Affleck's three children Violet Anne, Seraphina Rose Elizabeth and Samuel Garner Affleck. With lines connecting through Ben Affleck and the Royal Baby's grandmother, Princess Diana, this is the closest celebrity/royal relationship.
2. 22nd cousin: Uma Thurman and Arpad Busson's daughter, Rosalind Arusha Arkadina Altalune Florence Thurman-Busson.
3. 20th cousins twice removed: Maggie Gyllenhaal and Peter Sarsgaard's two daughters, Ramona and Gloria Ray Sarsgaard
4. 19th cousin once removed: Hilary Duff and Mike Comrie's son Luca Cruz Comrie. Duff used to top the list of celebrities most closely related to the Queen as her 18th cousin. The Queen and Duff can both trace their ancestry to King Edward III.
5. 23rd cousin twice removed: Beyoncé Knowles and Jay-Z's daughter Blue Ivy Carter. Blue Ivy's relation to the Queen comes through French royal heritage.
6. 27th cousins: Brad Pitt and Angelina Jolie's biological brood, including daughter Shiloh Nouvel Jolie-Pitt. Shiloh is related to the royal family through both parents, although Pitt is more royal than Jolie.
7. 26th cousins thrice removed: Celine Dion and Rene Angelil's three kids, Rene-Charles, Eddy and Nelson Angelil
The closest connection unearthed among Hollywood's babies comes from a connection to the late Princess Diana, the royal baby's grandmother. Diana's ancestry includes a number of early New England families, which means a large number of Australians might find a closer kinship with the heir to the throne than they will to the current Queen.
This means that you don't have to be a celebrity to trace your ancestry to the Royal Family. Thousands of Australians are related to royalty and their family trees are just waiting to be discovered.
The people most likely to be related to the Royal Family can trace their ancestry to England. Search findmypast.com.au to trace your family history and uncover a possible link to royalty.