There's no denying it, Christmas postmen have it tough. Over ten million parcels are delivered daily during the holiday period, not to mention the rocket in online sales deliveries from people keen to avoid the Christmas rush.
Discover your ancestors' story with a trial membership

But spare a thought for the postmen of yesteryear, before the digital age of email and instant messaging, where every piece of vital information had to be relayed within an envelope. Wherever there were families waiting for news, there was a postman to deliver it. Through rain and snow they'd set out for miles, often on foot or by bicycle, and some of them never returned.
Our first Christmas postman got lucky. After skidding off the road in his post van, Devid Beveridge had to trek nearly three miles through a snow storm, until he came across a hotel to stay the night.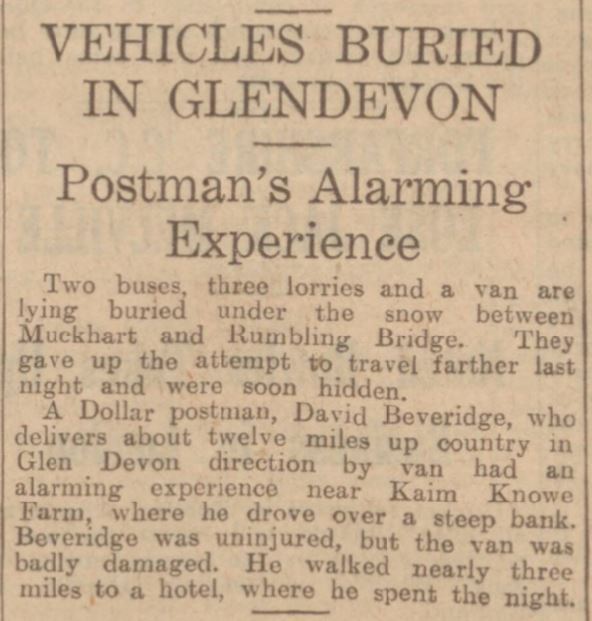 Dundee Evening Telegraph - Tuesday 21 January 1936 © THE BRITISH LIBRARY BOARD. ALL RIGHTS RESERVED
You certainly can't question the devotion of these men, who risked their lives daily to deliver the mail. Some suggested that this should be matched with a wage increase, though even if approved it would come too late for some.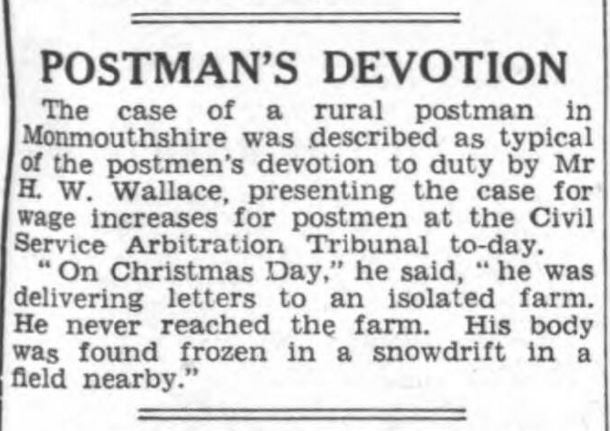 Sunderland Daily Echo and Shipping Gazette - Monday 18 July 1938© THE BRITISH LIBRARY BOARD. ALL RIGHTS RESERVED
Most postmen were expected to complete their rounds even on Christmas Day. The welcome treats of mulled wine and mince pies from many of the houses they visited provided some comfort for the Christmas postmen, but some were faced with conditions so harsh they could even prove fatal.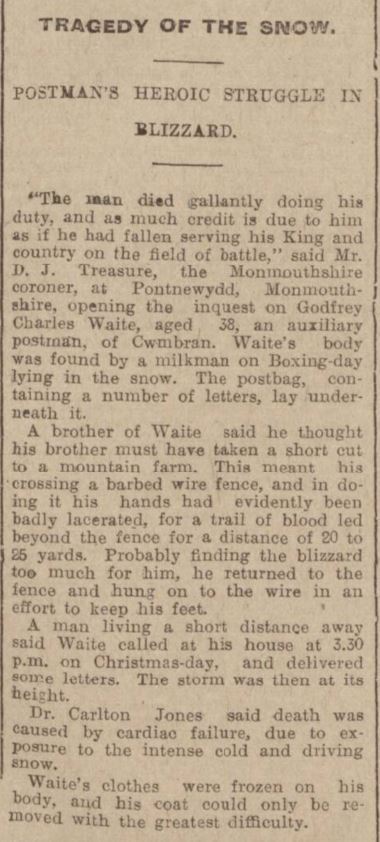 Cornishman - Wednesday 4 January 1928© THE BRITISH LIBRARY BOARD. ALL RIGHTS RESERVED
So when you're waiting in for your third missed delivery this festive period, or your parcel's got lost in the post, think of the men willing to risk their lives to get the mail delivered on time. There's a huge number of stories documenting these brave souls, but it would be hard to find a tale more heartbreaking than that of Charles Forrester...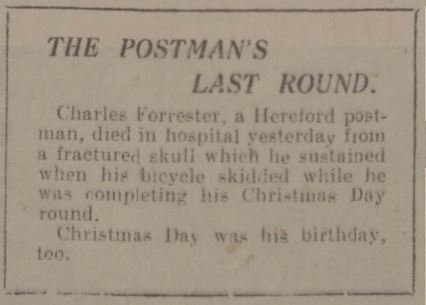 Western Daily Press - Tuesday 27 December 1932© THE BRITISH LIBRARY BOARD. ALL RIGHTS RESERVED