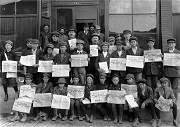 Read the latest news from findmypast.com.au in July's monthly update including:
Find out about Family History month and the arrival of findmypast's Lead Genealogist Joshua Taylor, who will be touring parts of Australia and New Zealand during August.
Uncover your military ancestors in newly published 'Royal Naval Division Records 1914-1920'.
Explore the fascinating history of "selfies".
Discover a phenomenal connection between the Royal baby and Hollywood celebrities.
Read the newsletter here.