NEW RECORDS: How the new Victoria Passenger Lists helped Joshua Taylor's family history research
Findmypast.com.au recently launched over 1.5 million records from the Victoria Passenger Lists 1846-1899. Containing over 1.5 million records, as well as some original images, this collection is sure to prove a goldmine for genealogists and family history researchers around Australia.
But, as is often the case in family history research, the records' value extends beyond geographical borders. Joshua Taylor, Lead Genealogist at findmypast.com, explains how the Victoria Passenger Lists have helped illuminate the life of a fascinating, globetrotting ancestor.
Engaging in family history research teaches us many things; from records to online search strategies, we discover new places, people, and fascinating stories. One thing that constantly amazes me as a genealogist is how 'small' the world really is sometimes.
While the majority of my family tree has roots in the United States before 1900, before that date my origins can be traced to England, Denmark, Scotland, Ireland, Germany, Italy, Canada, Switzerland, and France. Hidden amongst these many generations, spanning many countries, lies an unusual link to Australia and India through Samuel Omar Kingsley, who was born in Illinois around 1839 and died in Bombay, India in 1879.
According to newspaper accounts found at findmypast, as a young child, Samuel was taken in by a circus family and trained to perform. Praised by newspapers such as the Morpeth Herald for his "daring and graceful equestrian feats", Samuel rode horses in the circus while dressed as a woman. Performing under the name of 'Ella Zoyara', Samuel's act proved immensely popular as he travelled across the world – spending a considerable amount of time in Australia.
In fact, in the mid-1870s, Samuel took his wife, Margaret, and son, Samuel Omar Jr., to Melbourne where he became part owner in the Wilson Circus company. It was there that Samuel and Margaret gave birth to two twin daughters whose graves I visited on my recent trip to Melbourne.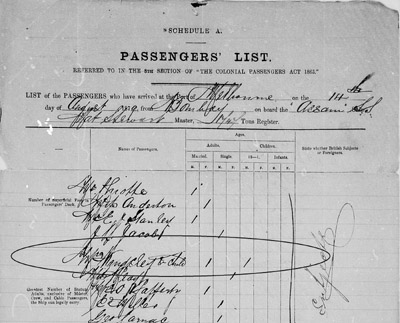 Tracing the movements of Samuel and his family can be difficult, as he sometimes travelled under his performance name of Ella Zoyara, as well as other variants of his first and last names. When findmypast.com.au recently launched the Victoria Passenger Lists 1846-1899, you can imagine my excitement in seeing what additional records I could uncover on this fascinating family. Though newspapers and other materials had provided me with a fairly good timeline of when Samuel and his family had sailed in and out of Melbourne, this collection provided me with an interesting new element of the story.
Based upon previous research, it was known that Samuel Omar Kingsley died of smallpox in Bombay, India while conducting a series of performances. With the help of the Victoria Passenger Lists, I now know that his wife and son were likely also there, as a "Mrs Kingsley & Child" arrived at Melbourne from Bombay on 14 August, 1879.
There are likely further entries for Kingsley and his family in the collection (which will keep me coming back for more), but this discovery alone has helped to fill in another piece of the life of this fascinating, global relative. It just proves that you never know what else you can find when you start to dig.
Search for your own globetrotting ancestors in the Victoria Passenger Lists here.