NEW RECORDS: New Zealand Sheep Farmers, 1881-1918
'Herd' the one about the New Zealand sheep farmer?
This week findmypast.com.au has published an unusual yet important data set: records of New Zealand sheep farmers between 1881 and 1918.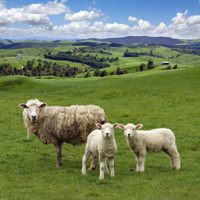 This searchable database comprises 91,842 records compiled from the Annual Sheep Returns, which were undertaken by stock inspectors around the country for the House of Representatives. They were, more or less, national sheep counts – but their importance extends far beyond agriculture.
These records list sheep owners by district, recording not only their sheep populations over several years but also their place of residence.
In fact, the records could be used as a potential census substitute, having been compiled from selected years – 1881, 1891, 1901, 1911 and 1918 – in order to help offset the absence of surviving early censuses in New Zealand.
This quirky yet potentially invaluable data puts New Zealand's historical ride on the 'sheep's back' industry to good 'ewes' for family history researchers and genealogists with Kiwi ancestry.
While it may not help dispel the ovine stereotypes that have for so long been rammed down the throats of New Zealanders by their rambunctious Aussie neighbours (due to 'shear' lack of creativity, really), the database provides detailed insight into New Zealand's agricultural history.
Baad puns and ewe-phemisms aside, the New Zealand Sheep Farmers Records also paint a vivid picture of individual farmers' pastoral success. Because each individual sheep count also recorded the sheep population of the preceding year, these records enable local historians and family history researchers to chart fluctuations in farms' and regions' sheep populations over the short term and, potentially, the long term.
For instance, the aptly-named John Lamb's flock in Quarry Hills, near South Island's southernmost edge, rose from 81 sheep in 1900 to 167 sheep in 1901, while Mrs Sarah Shanks of Heriot, Otago lost about a dozen sheep between 1917 and 1918.
Meanwhile, Woolley Bros of Ashburton, in the Canterbury-Kaikoura district, went from 1295 sheep in 1910 to 679 in 1911.
One of New Zealand's most infamous sheep farmers, the wealthy and widely despised George Henry 'Scabby' Moore, had an unsurprisingly populous herd on the grounds of his extensive mansion, Glenmark, in Amberley, North Canterbury.
By the time of the 1881 sheep count, he had 88,000 sheep, a slight decrease on his peak of 90,000 in both 1879 and 1880. He was known for keeping his sheep infested with disease in order to repel leasers who could potentially impinge upon his land, hence his not-so-flattering moniker, 'Scabby Moore'.
The findmypast.com.au New Zealand Sheep Farmer records show that twenty years later, his stock had plummeted to 37,000 in the 1901 sheep count (which was, of course, still huge by most sheep farmers' standards). Moore died a few years later, in 1905.
Another potential use of these records lies in the fact that the names of companies are recorded in the surname field, allowing organisations to be searched as though they were individual sheep farmers.
Our data specialists found that all sorts of unexpected organisations dabbled in sheep farming, from the Salvation Army to the Helvetia Ostrich Company, which clearly didn't want to put all its (very large) eggs in one basket.
Don't be sheepish; search for your ancestor or their organisation in the records yourself here.