NEW RECORDS: South Australia's first governor and the Founder of Adelaide
A miscellaneous mixture of records from South Australia was recently published on findmypast.com.au, including immigration, burial, military and agricultural records. These nine new data sets form a wide-ranging resource for genealogists and family historians tracing their South Australian ancestry.
This article is the first in our series of three blog posts in which we explore these different record sets, what they reveal about South Australian history, and how they can help your genealogical research.
In July 1836, the HMS Buffalo departed the southern shores of England for a distant, unsettled colony on the other side of the world.
Five months earlier, in a letters patent, King William IV had established the province of South Australia. Now the Buffalo, along with a fleet of ships containing the first settlers, was on its way to this new world.
Aboard the ship was a passenger of special status. John Hindmarsh, better known as 'Bluff Jack Hindmarsh' back in England, was the ship's captain, and set to be the governor of the new colony. Well-known for his brave exploits in the Royal Navy as a child, Hindmarsh was strongly influenced by his time at sea.
As findmypast.com.au's passengers to South Australia on board the Buffalo 1836 index reveals, Hindmarsh was accompanied by his wife, sister, son and three daughters.
Although the voyage was fairly steady by the standards of the 1830s, with few deaths recorded en-route to Australia, Hindmarsh was not a popular captain; he was notorious among the passengers for his relish of authority and impatience with those he dubbed landlubbers. These qualities were evident even after he reached land and assumed the role of the colony's first governor.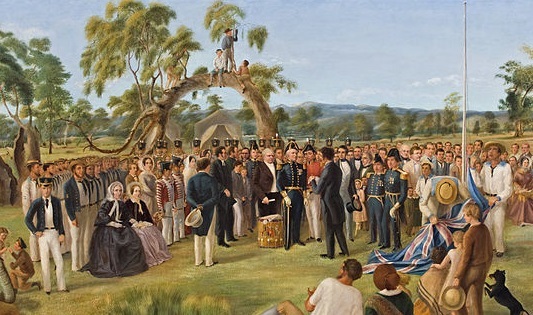 On 28 December 1846, Governor Hindmarsh famously proclaimed the colony of South Australia near the Old Gum Tree in Glenelg. This arched tree (pictured) still stands today, now encased in concrete, and remains the site of Proclamation Day celebrations.
Other aspects of his governorship were less well-regarded. He frequently clashed with other prominent members of the new colony including, famously, on the question of where South Australia's capital should be established. As a naval officer, Hindmarsh believed that the capital should be founded by the sea, as a coastal settlement.
On this question, he disagreed with the state's first Surveyor-General, Colonel William Light, whom he had initially recommended for the position. On 28 December 1836, Light selected the site of Adelaide for the South Australian capital which, despite criticism, was chosen above Hindmarsh's preference of Port Lincoln.
Colonel William Light came to be known as the Founder of Adelaide. Interestingly, this historic figure turns up in another newly published South Australian record set on findmypast.com.au: the SA lonely graves collection 1837-2005.
Light resigned from his Surveyor-General position in 1838, due to pressure from the authorities to use less accurate surveying methods. This was but the first of a series of setbacks that would befall him. After losing most of his possessions and papers in a destructive fire, and suffering from ill health, Light returned from his last surveying attempt with a severe fever. On 5 October 1839, he died of tuberculosis, only 53 years old.
Light's record in the SA lonely graves collection on findmypast.com.au contains detailed information about both his death and life, listing his birth date, parents' and wives' names. Also included is a surprisingly in-depth account of his last days, from David Elder's book. The record recounts:
"If only a little of the attention given to him by the authorities after his death had been paid to him in life Light might have died a more happy man. On 10 October there was a most impressive funeral…. Inside the coffin was a brass breastplate inscribed 'Founder of Adelaide'."
Why then, after all this fanfare and posthumous recognition, was Light buried in a 'lonely grave'?
Despite the somewhat depressing name, a lonely grave refers only to a grave located outside recognised cemeteries, either on its own or in a small group of no more than about 20 graves.
Light's grave, for example, is the only grave in its vicinity – and, indeed, one of very few legal graves in Adelaide's entire city centre after settlement. He was fittingly honoured with a burial in Light Square, which was named after him.
Similarly, the area known as Light's Vision in Montefiore Hill, North Adelaide, contains a monument commemorating his vision for the city. So detailed is his record in findmypast.com.au's SA lonely graves collection that it even records the inscription of this monument!
Search for your ancestors – founding figures or otherwise – among these new collections today.
You can read the other posts in this series here: