NEW RECORDS: Victoria and Australian Capital Territory BDM indexes, featuring Ned Kelly
Birth, death and marriage (BDM) records form the backbone of family history research. By confirming the dates of three of the most significant events in our ancestors' lives, BDM records underpin much of what we know about our family history.
As such, findmypast.com.au is particularly excited by our recent addition of indexes to BDMs from Victoria and the Australian Capital Territory!
Marking our first Australian BDM indexes, these additions expand findmypast.com.au's existing collection of life event records from around Australia and New Zealand, including many burial records and cemetery inscriptions. These new records also build upon our comprehensive global collection of BDMs, such as those from the United Kingdom.
The indexes are catalogued separately:
• Victoria Marriages 1836-1942
• Australian Capital Territory Marriages 1930-1938
• Australian Capital Territory Deaths 1930-1983
• It is important to note that Australian Capital Territory Births are not included because this collection, dating back only to 1930, is subject to privacy restrictions.
The extensive Victorian BDM indexes feature some of nineteenth-century Victoria's best known historic figures, including records of the state's most famous - or, rather, infamous - bushranger, Ned Kelly. It was an example we just had to 'hold up', so to speak.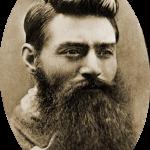 Although crooks and criminals on the family tree often left behind a paper trail throughout courts, gaols and newspaper headlines, bushrangers can be tricky to trace in the official records of nineteenth-century Victoria. As the term 'outlaw' suggests, these people lived on the outskirts of society, seemingly beyond the pale of the law (until, as in Ned's case, it caught up with them eventually!). For that reason, the findmypast.com.au team was intrigued by the question of whether these fugitives could be found among the BDM records that, in theory, should cover every person from Victoria at some stage in their life.
Though there was an important omission, among our Victorian BDM indexes we found not only that armour-clad icon of outlaws, Ned Kelly himself, but also some of his family members.
Ned's parents show up among the indexes in the Victoria Marriages 1836-1942 collection on findmypast.com.au. The index to their marriage certificate shows that John Kelly – better known as 'Red' – married Ellen Quinn in Victoria in 1850, a few years before Ned himself was born.
Unfortunately, although the Victoria Births 1836-1913 collection contains some 1,764,300 indexes, that of Ned's birth is not among them. This curious omission of such a vital record reflects how little we know about the birth of this historic, almost legendary figure. Although Ned's birth was never registered, many historians believe that he was born in June, 1855.
The birth of Ned's famous sister Kate Kelly was registered, however, and appears among the Victoria Births 1836-1913 collection. Listed as 'Catherine Kelly', this index records that Kate was born in 1863 to John Kelly and Ellen Quinn. Her birth place was recorded as 'Beve' – an abbreviation of Beveridge, where the Kellys lived at the time.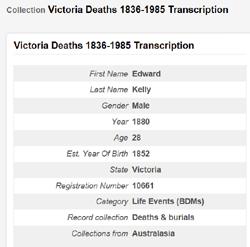 The iconic bushranger himself can be traced among the Victoria Deaths 1836-1985. The index of Ned Kelly's death certificate includes information such as his full name, Edward Kelly, and his age, year of death, and estimated year of birth. Interestingly, this estimate is 1852, a full two years before the birth year generally accepted by historians.
Importantly, all of these indexes – as with any others from the collection – also include the registration number that is needed to order the certificate itself from the Registry of Births, Deaths & Marriages, Victoria.
A detailed guide, complete with links, also appears alongside each Victorian and ACT BDM index to help explain the process of ordering certificates from the relevant registry. The certificates themselves, of course, contain more detailed information.
Whether or not your forebears were as famous or infamous as the Kelly gang and their relations, search for your own Victorian and ACT ancestors among the BDM indexes today using the links in the bullet points above or, for a broader search, here.