8 Terms Every Genealogist Should Know
For seasoned family historians words like index, transcript and bann are all too familiar but they may be completely foreign if you're just getting started on your research.
To help, we've compiled a useful list of the most common terms and phrases in the genealogy community. Keep this handy as you might find yourself referring back to it from time to time.
BMD stands for births, marriages and deaths. These records form the building blocks of everyone's family tree. They're also sometimes called life events or vital records, while in Australia and New Zealand you may see the acronym written as BDM.
Civil registration refers to official government record-keeping, usually of births, marriages and deaths. For genealogists, the year civil registration began often dictates how far back they get using these important records. Civil registration started in England and Wales in 1837 and later in Ireland.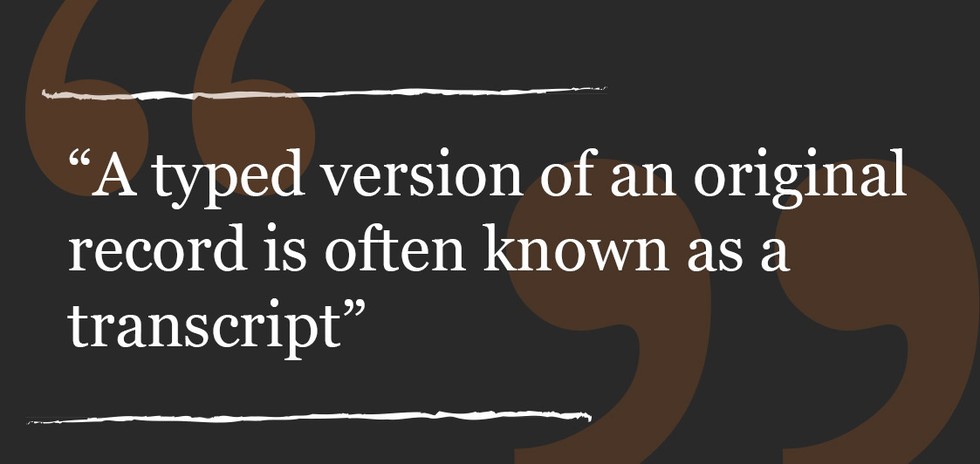 GRO stands for General Register Office which is where civil registration records are kept and where you can order copies of them for your research.

Parish records, as the name suggests, are records of baptisms, marriages, burials and banns, kept by a church. For research in the years before civil registration, you rely on these parish registers to provide information about the most important milestones in your relatives' lives.
In family history, an index is usually a summary of the information in a collection of records. For some records, only indexes survive. Go to our A-Z of records and type 'index' in the search box to see what collections you can explore on Findmypast.
Name variance is a phrase you'll come across regularly as you navigate online record searching. If your ancestor has a commonly misspelled name, it can be a very handy tool for finding the exact record you want. By ticking the 'Name variants' box on Findmypast's first name and surname search fields, your results will include both the exact name you searched for and very similar ones.

Use the name variance tool to broaden your search results
A typed version of an original record is often known as a transcript. It usually contains fewer details than the record itself and can be useful if you're having trouble deciphering the handwriting on the original image. Some records on Findmypast are transcript-only while others have both a transcript and an original scanned image.

A bann is a public announcement a couple's intention to marry, commonly associated with the Church of England. Banns often form part of our many parish register collections.
The list of recurring words and phrases you'll encounter during your family history research is endless but these are some of the most common and will help you as you get to grips with the exciting and addictive world of genealogy.
Ready to get going?
Sign-up for our two week free trial, giving you full access to our 8 billion records.