The REAL Banished! How Transported Criminals Built New Lives On The Penal Colonies
The BBC Drama 'Banished' documents the brutal transition to life on a penal colony for a thousand prisoners, sent to Australia from Britain in 1788 as retribution for their crimes. Sentenced in some cases to life on the strange new shore, the prisoners must adjust to a cruel regime, enduring starvation, infighting, and the ever-present threat of the Major's whip.
Unsurprisingly, transportation was one of the most feared punishments in the Georgian and Victorian criminal systems. Deemed by many a fate worse than death, the real-life examples on which Banished is based are well-documented in our fascinating new crime record collections, released as part of Crime and Punishment Month at Findmypast.
Explore our transportation records now
Banished is closer to life than you might imagine. Two of the unfortunate characters depicted in the series, James Freeman and Thomas Barrett, can actually be found on our Convict Transportation Registers, 1787-1870. You can see a snapshot of their records below:

A lot of the people on these registers were responsible for establishing the first European Penal colony in Australia. Penal Transportation, or just transportation, was effectively exile. Prisoners were sent to far-flung corners of the Empire, where they laboured until either their term elapsed, or they died. In Georgian and Victorian Penal law this was considered more merciful than execution. Our Criminal Petitions series includes a number of cases where sentences have been commuted from execution to penal transportation on appeal.
The term of transportation could be anything from seven years to life, and the crimes which merited transported in the eyes of the law were surprisingly varied. Some of the first convicts transported were convicted of relatively minor thefts, such as cheese or bootlaces. One family historian recently got in touch with us to report that their ancestor was transported for the theft of two sheep! An official list existed, but was by no means exhaustive (see below).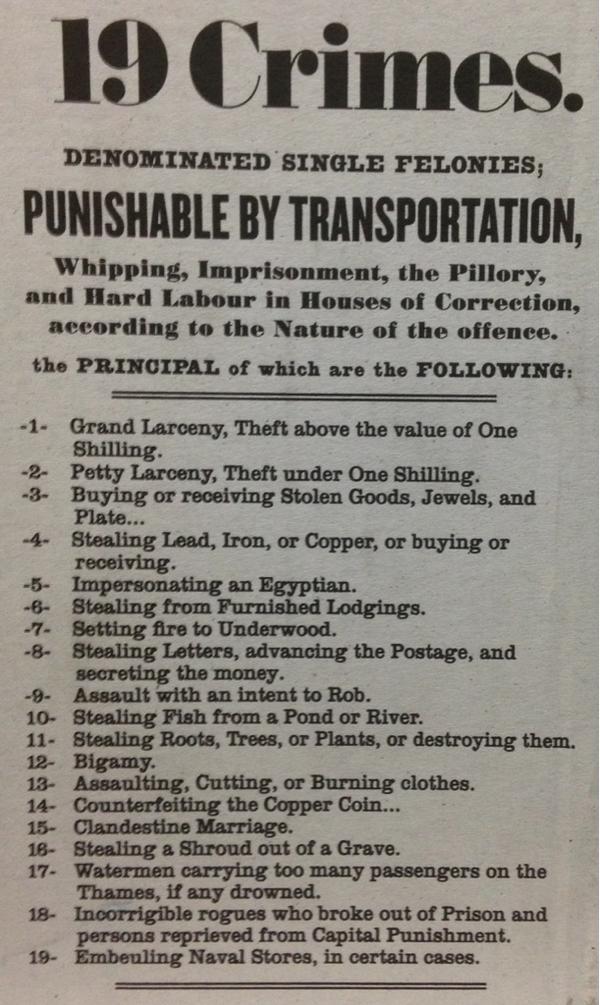 Britain was expanding rapidly, and with an Empire at her disposal transportation was seen as the solution to the country's overflow. Criminals could be confined to Prison Hulks (ships), so why not sail them to unknown lands as well? The government could remove the 'undesirables' of society, making the streets and country lanes safer, and put convicts to work building a new infrastructure for the Empire at the same time.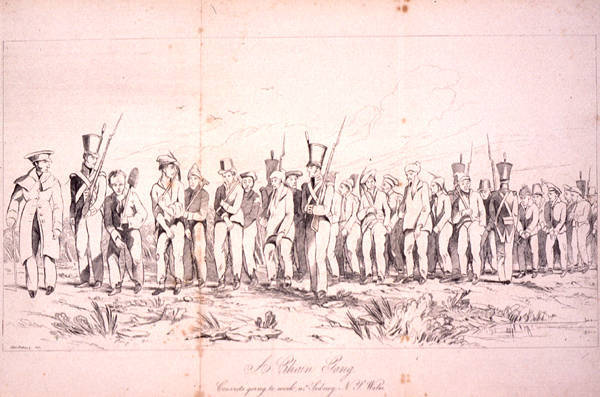 This process largely contributed to the growth of the earliest British settlements in Australia and New Zealand, although not all of the first British Australians were convicts. The First Fleet, which took the first Britons to Australia, also carried Naval and Marine Officers to guard the prisoners and secure the colony, and civilian specialists (so skilled professionals such as Doctors and Masons.) These can be seen on a number of our Passenger Lists, from the Victoria Inward Passenger Lists 1839-1923 to the Emigrants Seeking Free-Passage register.
This punishment remained on the statute books for a good hundred years, and with over 160,000 people transported in this time, as well as the civilian specialist volunteers and naval personnel, it is more than likely you'll find one of the transported either in your direct family line or in your extended tree. Why not take a look in the Convict Transportation Registers mentioned above, or even extend your search to the New South Wales Convict Arrivals? Start searching now, and see what you discover!