The secrets of the Royal Archives
Our Royal Archives collection contains over 386,000 records, and covers almost four centuries of life in the service of the British Royal Family, stretching from 1526 to 1924.
The Royal Archives is based in the Round Tower at Windsor Castle and holds documents that relate to the Royal Family and British Monarchy for a period of over 250 years.
The records include detailed information about the nature of each staff member's employment, their salary and their reason for leaving service.
Some also contain signatures of staff members, showing their own handwriting to be seen for the first time.
Inside the Royal Household
The Archives tell the fascinating stories of those who lived and worked alongside the British Monarchy.
It is responsible for preserving the official and personal archives of the Sovereign and of members of the Royal Family and the administrative records of the Royal Household and private estates.
The Royal Archives, therefore, holds some records which are a rich source of information for genealogists, whose ancestors may have worked in the Royal Household or been otherwise, associated with the monarchy.
Among the records you can search in the Royal Household Staff 1526-1945 are:
Royal Household establishment lists 1526-1924

Royal Household index sheets 1660-1901

Royal Household payment and employment lists1715-1924
Between them, the establishment lists, index sheets and payment and employment lists contain extensive, but not complete, lists of employees throughout the Royal Household from the 16th century.
Lalla, the Royal Nanny
One notable example from the Royal Household who appears in our records is Charlotte Jane 'Lalla' Bill  (1875–1964).Lalla served as nanny first to the Duke and Duchess of York, who became Queen George V and Queen Mary. She was devoted to their youngest child, Prince John, caring for him for fourteen years until his death in 1919.
John suffered from epilepsy and learning difficulties, possibly due to autism. He originally stayed at his parents' residence, York Cottage, but separate lodgings were arranged for him in 1917. Lalla nursed him until his death from a severe epileptic seizure on 18 January 1919, shortly after the end of World War 1.
Lalla notified the Queen of her son's death by telephone. She attended his burial at Sandringham Church.
Lalla treasured the memory of her young charge until her death in the sixties. The Duke of Windsor noted that the first thing he saw upon entering her home was a photo of Prince Johnnie as a toddler on her mantelpiece.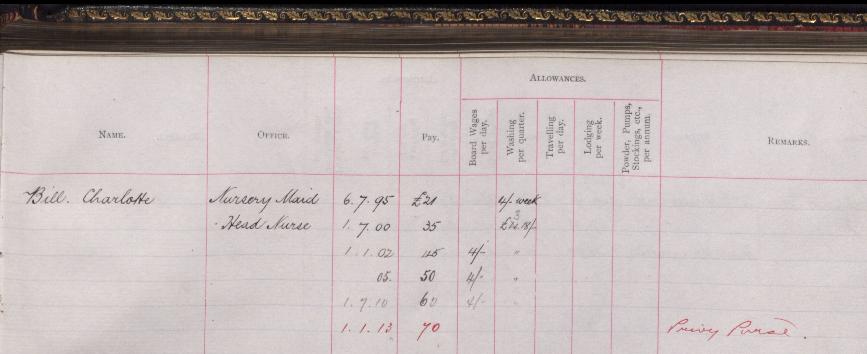 Prince John's nanny Charlotte Bill, aka Lalla