The tragic death of Captain Fryatt
This week's Findmypast Friday marks the release of over 157,000 British Merchant Navy First World War Medal Index Cards, 1914-1925. During the First World War, Merchant Navy seamen, who had served at sea for at least six months and who had served on at least one voyage through a danger zone, were entitled to the Mercantile Marine Medal. The Medal was awarded by the Board of Trade, a committee of the Privy Council of the United Kingdom. Recipients of the Mercantile Marine Medal were automatically entitled to the British War Medal and those who were invalided out of the navy during the war were entitled to receive the Silver War Badge.
Among those who were awarded the Mercantile Marine Medal was Captain Charles Algernon Fryatt.
Born in Southampton in 1872, Charles Fryatt followed in his father's footsteps and joined the Merchant Navy on leaving school. A highly capable sailor, Fryatt swiftly rose through the ranks and was soon a master and captain of various ships.
On 3 March 1915, while in command of the Great Central Railway ship SS Wrexham, Fryatt was attacked by a German U-Boat. The Wrexham was relentlessly pursued for 40 nautical miles and all deckhands were ordered to assist the stokers. Fryatt pushed his vessel to make 16 knots  when it would normally have been pushed to make 14 knots and the Wrexham escaped, arriving at Rotterdam with burnt funnels . The Great Eastern Railway presented Fryatt with a gold watch for this remarkable feat that was inscribed "Presented to Captain C. A. Fryatt by the chairman and Directors of the G.E Railway Company as a mark of their appreciation of his courage and skilful seamanship on March 2nd, 1915". Later that month Fryatt was in charge of the ship "Colchester" when he was unsuccessfully attacked by yet another U-boat.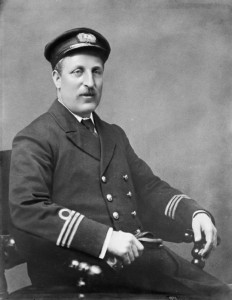 Captain Charles Algernon Fryatt
On 28 March 1915, as captain of the SS Brussels, Fyatt was intercepted and ordered to stop by the U-boat U-33. The German vessel surfaced and was preparing to torpedo the SS Brussels when Fryatt ordered full steam ahead. In attempting to ram the U-boat he forced it into a crash dive, saving the SS Brussels and her crew.
Winston Churchill had previously issued orders to the captains of all merchant ships to ram U-boats if they had the opportunity. They were also ordered to treat crew as felons rather than as prisoners of war, to ignore white flags and to shoot survivors, if this was more convenient than capturing them.
In recognition of his decisive actions, Fryatt was awarded a gold watch by the Admiralty, engraved with praise for the example he set.
In June 1916 the SS Brussels left Hoek van Holland bound for Harwich. A passenger is reported to have signalled from the deck as she sailed and a flare was fired from the shoreline. Five German destroyers quickly surrounded and seized the ship, escorting her to Zeebrugge, then on to Bruges. Fryatt and his crew were sent to the civilian internment camp at Ruhleben, near Berlin, but when his captors saw what was written on the watch presented to him by the Admiralty a year earleir, Fryatt was charged with sinking a German submarine.
Fryatt was tried by Court Marshall in Bruges Town Hall on 27 July 1916. He was found guilty of being a "franc-tireur" - a French term meaning literally a free shooter, or guerrilla fighter. He was executed by firing squad and buried in a small graveyard just outside Bruges that the Germans used for burying Belgian "traitors".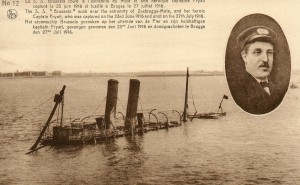 SS Brussels scuttled at Zeebrugge, October 1918
An execution notice was published in Dutch, French and German announcing the death of Fryatt signed by Admiral Ludwig von Schröder. It read; "The English captain of a merchant ship, Charles Fryatt, of Southampton, though he did not belong to the armed forces of the enemy, attempted on March 28th, 1915, to destroy a German submarine by running it down. For this he has been condemned to death by judgment this day of the Field Court Martial of the Naval Corps, and has been executed. A ruthless deed has thus been avenged, belatedly but just. Signed VON SCHRÖDER, Admiral Commandant of the Naval Corps, Bruges, July 27th, 1916."
Fryatt's death caused outrage across Europe and America as well as at home in England. British Prime Minister H. H. Asquith issued a passionate statement denouncing the execution as murder and promising to punish those responsible "when the time arrives".  A memorial to Fryatt was erected at Liverpool Street Station on the first anniversary of his death. The incident also inspired a 1917 Australian film "The Murder of Captain Fryatt".
The Great Eastern Railway awarded Fryatt's widow a pension of £250 per annum and the Government granted her an extra £100 per annum pension on top of her entitlement. Fryatt's insurers, the Provident Clerk's Association, paid the £300 that Mrs Fryatt was entitled to immediately, dispensing with the usual formalities. The Royal Merchant Seaman's Orphanage offered to educate two of Fryatt's seven children and the King expressed his indignation and abhorrence at the execution of Fryatt in a letter to Mrs Fryatt.
In 1919, Fryatt's body was exhumed and repatriated to England. His funeral was held in St Paul's Cathedral in London. As well as his Mercantile Marine Medal, Fryatt was also posthumously awarded with both the Belgian Order of Leopold and the Belgian Maritime War Cross.
You can view the medal card of Captain Fryatt and other brave seamen like him in our new British Merchant Navy First World War Medal Index Cards, 1914-1925. Don't forget to visit our dedicated Findmypast Friday Page to discover what other record sets have been released this week.