Waverley & South Head Cemetery Transcriptions
Over 56,000 Waverley and South Head Cemetery Transcriptions have been added to the Life Events (BMDs) category on our website. These cemeteries in Sydney's eastern suburbs began in the 1800's.
Waverley Cemetery had its first internment in 1877 now has now grown to over 80,000 interments in 50,000 gravesites and memorials over 40 acres. South Head General Cemetery had its first internment in 1869 and now has over 6,000 gravesites and memorials in 4 acres.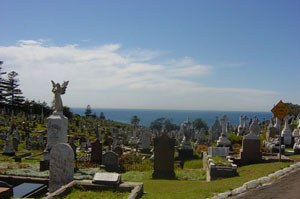 These records include the full details transcribed, and also denomination, section, row and plot number. Nearby graves are also listed. These records are really valuable for anyone searching for ancestors from the Waverley and South Head areas.
There are a number of people that have been laid to rest in the Waverley Cemetery. From poets and beer brewers, to judges and cricketers, this list is worth a look as there are definitely people from all walks of life! Some of these people include:
• Dorothea Mackellar - Poet
• Edmund Resch - Beer brewer
• Eliza Winstanley - Australia's 1st leading lady of the stage
• George & Charlotte Sargent - Meat pie bakers
• Harold Hardwick - champion swimmer & boxer
• Harry Rickards - Tivoli Theatre owner
• Henry Lawson - Writer & poet
• Jules Francoise Archibald - founder and editor of The Bulletin newspaper, public benefactor & provider of the annual portrait prize in his name
• John Fingleton OBE - Australian Cricketer & 'Bodyline' veteran
• John Sands - Greeting card manufacturer & stationer
• Lawrence Hargrave - Aviator and inventor
• Oscar Eliason - 'Dante the Great' (magician & conjurer)
• Sarah (Fanny) Durack - Olympic gold medal swimmer
• Sir Frances Forbes - 1st Chief Justice of NSW
• Victor Daly - Poet
• Victor Trumper - Test Cricketer
• William Dymock - Book seller